Subject
This detective series is set entirely in a police station. 4 police officers and a coroner have 24 hours to make suspects confess in custody. Head of the unit is a skilled policewoman. With a history of drug abuse, she lives a cocoon - like existence at work. She is ready to do anything to get confessions. She has to deal with an ambitious, sexy officer who knows exactly how to exploit her frailties to further his own career.
A young female officer and a more experienced but dubious colleague complete the unit, who live on the edge.
Suspects or cops - who is going to cross the line first?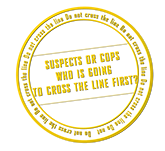 Directors
Aurélien POITRIMOULT, Charli BELETEAU, Didier DELAITRE and Pierre Yves TOUZOT
With
Anne CAILLON, François-David CARDONNEL, Lise SCHREIBER, Ludovic BERTHILLOT, Florence DENOU, Ibrahim KOMA…
Created by
Cécile GÉRARDIN, Hassan MEBARKI, Charlotte PAILLIEUX
Premiere
NRJ 12, Chérie 25
Police TV series shot in Meylan (near Grenoble)